So It's the end of March and it's cold again. Disappointing. They say "March comes in like a lion, and goes out like a lamb." I think the lion ate the lamb. (reminds me of a line from twilight, but anyway) March is officially my least favorite month of the year, because it's such a tease. I've been having some sinus problems lately, which have been keeping me home from work, (the only drawback to spring for me ) but have not been keeping me from the mall (go figure.) So I went to the mall with a friend yesterday (yet again, for the ???? time this week, I see meetings in my future.) It's such a letdown to look at spring fashion on display, bring home your purchases and know that it might be a while before you get to wear it, (around my house doesn't count? does it?) I've still made some purchases, but I think my wallet would be suffering more if it was nice outside and I could wear my items, and get instant gratification. But I was still inspired enough by all the light airy spring apparel to do this post. So as i was gathering my thoughts and catching up on twitter (yet another problem might be in the works) I ran across a tweet about Spring lace and eyelet trends by BellaSugar. I love lace for spring, it's so light but sophisticated at the same time. Some of the items highlighted in this post caught my eye so they will be included. And as I logged on a little while ago, my friend's blogpost "Closet challenge"
(her blog http://www.gummyvision.blogspot.com)
not only inspired me to look in my closet for things that I already own but may have not thought of wearing for Spring, but also for single items I own, so that when I do make Spring purchases I buy things that already work well with what I have. No need for a new wardrobe here, just a few updates.
Trends that inspire me (aka things i'm lusting after):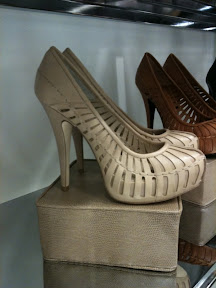 Nudes - I love nudes already, and now there is such an abundance of them this spring.
Nine West Handbag - Innovative Large Messenger Bag (picture taken at Macy's)
This bag is perfect for spring, big enough for all your things, including a quick trip to the beach. It can easily take you from spring to summer, and the one with green accents can easily take you into the fall. I'm not into Nine West handbags, nothing from them has caught my eye in years, so this was a nice surprise. This bag has clean lines, and a sophisticated Hampton feel, while still being fun.
BCBGirls Women's Estrella Platform Pump (picture taken at Macy's)
These shoes are so beautiful. This style can easily be worn for a summer night out instead of the expected open toe pump or slingback. They just sit so well on display. I wish they sat so well on my feet. I was devastated to find out that was not the case (especially because they retail for $118 and I found them online for $42, so for those of you that are still interested, head on over to Amazon and make this your steal of the season.) I found them to be very uncomfortable, aside from the fact that the heel is just shy of 5". The cutouts which make these standout, also make these very uncomfortable, because they pinch the skin as you walk. But these were my inspiration to keep looking for that perfect nude pump.
Rose Gold/Coral Accessories - A few days ago I told a friend that rose gold was not for me. Then I tried it on, and there's no going back. I've been reading everywhere that as far as watches go, rose gold is in, and big is out. I don't know about all that but as far as i'm concerned (I love my big watches)I'll rock the rose gold trend through the summer and then we'll see. I think it's a very feminine look. I tried on a few watches in rose gold and I found that since it is different, it's best to keep the watch simple, because the gold should be the focus.
The first image is just a mix of rose gold accessories
Coral dawn flower earrings (fredflare.com)
These have such a spring feel to them. The coral looks very bright and playful and would be a great addition to a muted nude outfit as a pop of color. These are the type of items that stores like Forever 21, Charlotte Russe, and maybe even Target carry on occasion. But if these are a must, the best part is they're only $10.
Fossil Tree of Life bracelet
I saw this bracelet at a Fossil store when I was trying on some rose gold watches. When I tried it on with one of the watches it looked like it belonged. Just the perfect addition to dress up a simple watch yet simple enough itself not to take away from the watch. Can also be worn layered with other bracelets (they have others in rose gold that are just as cute) or by itself for a dainty effortless look.
Lace/Eyelet - The lace/eyelet trend is back. Something lacy can easily take an outfit from day to night without much effort. Also perfect for those that don't want to go crazy with color, because lace is enough of a spring staple.
We The Free Lacy Stripes Top
This top is perfect with some leggings or skinny jeans for daytime. I love casual/relaxed looks during the day and this is one of my favorites. Or dress it up with a blazer and some heels for a night out.
Forever 21 Floral Back Vest (Forever21.com)
I have a couple of these vest from last summer and i love them. They go perfectly with a plain t or tank and a fedora hat. And they're sleeveless so they'll keep you cool on a hot summer night instead of opting for a short sleeved sweater.
Green/tan - Kind of an odd trend for the warmer months, but I'm seeing lots of it in the stores.
Rubbish Drawstring Parka (Nordstrom.com)
This lightweight jacket is great for those April shower days. It's light so you won't be too warm, it matches literally everything, and because it's lightweight you can easily tuck it into your bag when you are done with it. I've been looking for something like this for a while, it would be perfect for when i travel to go with every outfit.
Elizabeth and James Eden Crisscross Platform Sandals (Shopbop.com)
I think this shoe is great for dressing up a cute shirt dress. Or even a pair of khakis for a quick run to the office.
Sperry Ladies Angelfish (Journeys.com)
I love these boat shoes. The fact that they are water and stain resistant makes them even better. They are the perfect shoe for exploring in comfort, while on vacation. They come in many different colors and styles so there's something for everyone.
I'm sure many of you are asking, "Where's the color?" I'm always sick of seeing bright neons for Spring, not to say I don't like them, they're just so predictable. So I felt I had to find the other trends out there, the less predictable ones. And as for color, a little pop of color goes a long way, a necklace, a pair of great feather earrings, and if all else fails, a bright coral lipstick always does the job. Hopefully Spring won't keep me waiting too much longer.
And I'll even throw in some color. (well my version of color anyway.)
Soprano Racerback Maxi Dress (Nordstrom)
I saw this dress at Nordstrom the other day, and it was the main inspiration for this spring trend blogpost. It comes in coral (pictured here) and navy, and I have to have both. This will be my staple all Spring and Summer long.